Many people agree that times are different and consumption habits have already changed. Today the purchase decision is up to the customer and no longer depends on the persuasive power of advertising. Every day, brand, model and added value decisions for each product and service on the market are discussed in bar tables, internet discussion forums and in the positive reviews of other consumers like you and me. The more people are educated, and empowered to make their own decisions, traditional marketing increasingly loses its strength. What exists (and works) today is Inbound Marketing (Digital Attraction Marketing), and one of its main tools is Content Marketing. What it is, and how it can work for you, is what we will see from now on.
Traditional Marketing vs Content Marketing
"Doing traditional marketing and advertising is like telling the world that you are a star. Doing content marketing is showing why you are a star "


— Robert Rose
In Traditional Marketing, the main objective is to convince the public that your brand is the best, for x and y reasons, usually using some emotional appeal. The main characteristic of this type of Marketing is to be intrusive, or inappropriate, disturbing people who are doing something, but are interrupted by an advertisement, banner or commercial call.
Content Marketing, on the other hand, provides an information service, educating the public to make better and more correct decisions, according to their needs. The main characteristic of Content Marketing is to produce answers to the questions that are actually asked, instead of offering solutions in constant search for those who may have the problem.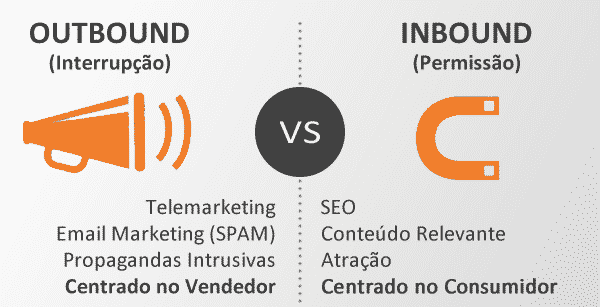 Content Marketing… but what is content?
"Content is the reason that search engines exist in the first place"

— Lee Odden
Daily, thousands of questions are asked on the internet. Search engines are the most essential tools in everyday life for any internet user. It is customary to say: "If you don't know, ask Google to answer it". However, who are these questions answered by?
Wikipédia
Discussion Foruns
Specialized Sites
Your Competitors
Your Company (?)
Whoever produces relevant content can answer the questions asked, and will be much more likely to be found by search engines. Conceptually speaking, content can be anything, in any format, and it doesn't necessarily have to answer any questions. But when we talk about research on the internet, we will evaluate some types of content and their main means of distribution, that is, who usually responds to what type of research:
Flickr, Google Images – Respond to searches for images, photos
SoundClound, SuperPlayer, Spotify – Respond to the needs of those who want to listen to music
YouTube, Vimeo, DailyMotion – Respond to video searches of any kind
Wikipedia, Information Portals – Answer questions from those who want to expand their knowledge
Terra, CNN, BBC, G1, R7, etc. – Respond on news, from all areas, uninterruptedly
Targeted Portals, Discussion Forums, Blogs – Answers specific questions for the most varied audiences
In this way we realize that the content can be anywhere, and take any format: audio, video, text, image, animation, PDF document, PPT presentation, Excel spreadsheet, etc. What we need to understand now is how it all fits into your Marketing strategy.
Content Marketing – How It Can Work For Your Business
"You become responsible, forever, for what you have tamed."
— Antoine de Saint-Exupéry
Before we go any further, it is important to mention Jon Buscall's phrase: "Content Marketing is a commitment, not a campaign." – From the moment you decide to advance through this methodology, you will captivate a certain audience, which will demand more information and will seek answers from you that you did not know where to find before.
Content Marketing demands a huge initial effort to produce material, in a quantity and quality sufficient to stand out from the competition. The most important thing is to know that it will be a long-term action, with a certain return, but without an exact forecast of when and how. However, there are ways to predict growth from the first results, and thus adjust the actions to maintain the desired goals.
If you believe that you have the profile to produce relevant and frequent content, and your company already has a website / blog to publish this content, here are some essential tips to follow the journey.
1.Know Your Target Audience
"The new marketing is to educate, interact and talk to understand the customer"
— Rafael Rez Oliveira
Companies don't always know exactly who their target audience is. If this is already well defined, let's move on; but if there are still doubts in this area, look for more information and make sure you have this very clear before proceeding, as the next steps depend on this definition.
Once you know who exactly your target audience is, define your Personas; one Persona for each segment of this audience. Personas will help you stay on track, and not lose focus while producing content for each one.
2. Help Your Audience Find You
"Content should be like a good conversation: it attracts, holds attention and inspires us to do something"
— Luísa Barwisnki
From the discovery of a need to the moment of acquiring something, we all went through 4 stages
Learning and discovery (awereness) – when we learn about the novelty;
Recognition of the problem – when we seek more information and are faced with the implications of this novelty;
Consideration of the solution – when we look for available solutions to face the problems and achieve what we want;
Purchase decision – when we have already collected all the data and are convinced that we are going to acquire the goods.
This mental process – natural and unconscious – is called the Journey of Purchase. Evaluate your audience, and separate your needs within these 4 steps. So you can offer answers to your Personas, in each of these stages:
Informing more about any new subject related to your niche market;
Point out problems to consider their implications;
Present possible solutions to the problems presented;
Show your company's differentials as a purchase alternative.
How to understand the moment of purchase of your audience in order to take them to the next stage, is what we learned in the methodology of Digital Attraction Marketing. Therefore, there is nothing more natural than using the content itself to show the way and take your audience from one stage to another.
3. Connect with Your Audience and Know Your Pains
"Content builds relationships. Relationships are based on trust. And trust generates revenue."
— Andrew Davis
From the moment you start receiving contacts from your potential customers, you will see that most of them will be asking for more information on how to solve specific problems. People need attention, and are sincerely grateful to anyone who cares about their issues. The relationship can be through emails, but it is also common for us to receive mentions, private messages and requests in the comments of social networks.
A very valuable tip is to participate in forums and interest groups related to the affairs of your business. Keep an eye on the questions you already have answered on your Blog. This also serves as a thermometer for frequently asked questions that you can still ask and then share your answer. Find blog posts on subjects that you have mastered and respond with your links in the comments to generate so precious link building. (…) There is no place for advertising here, always remember to only answer the questions that are being asked, so as not to be considered irrelevant.
The golden rule is: don't abandon your audience. It may take years for a company or brand to develop a culture and gain the trust of its consuming public, but a series of unanswered complaints is enough to undo all the effort there. See countless cases of companies that simply lost their credibility by ignoring their customers on sites like Reclame Aqui. On the other hand, companies that solve their problems are considered in high esteem by the public and generate even more confidence and new business.
4. Delight Your Customers, Always!
"The goal of marketing is to know and understand the customer so well that the product or service sells itself."
— Peter Drucker
From your first contact, show your genuine interest in helping your customer solve their problems. One of the main ways to keep the clientele is to continue to relate to them. Think of the corner bakery, which offers free samples at peak times. Or that waiter at the restaurant who welcomes you and calls you by name when you arrive. Or the garage manager who calls you to check if your car needs preventive maintenance, as he knows when you were last there. This is a relationship, it is enchanting to keep the customer.
Unfortunately, it is very common for companies to forget about after-sales. So think of ways to keep your team informed about the profile of your customers, and develop "treats" that they can offer, and keep the sparkle in the eyes of each name in your customer portfolio. Try giving a personalized service to see if you will not receive new referrals from these satisfied customers.
5. Know Where You Want To Go And Analyze Your Results Often
"There is no favorable wind for those who do not know where they want to go."
— Sêneca
The task of Content Marketing can be divided between two major forces: Production and Analysis, both equally fun and challenging.
In order to continue producing relevant content and attract new people to what you have to offer, the analysis of the results must be taken seriously and with a lot of discipline. Based on your goals, you will be able to assess if you are managing to grow your Leads base, where you are receiving more receptivity and set up specific campaigns to achieve results more quickly. The analysis will lead to the definition of new content or the revision of something that has already been published (if possible), or even to the discovery of repressed demands and new business opportunities. Keep an eye on your reports each week to keep your audience interested and your goals up to date.
It is important to remember that you are not alone on this journey. You can count on partners, both to produce content and to help measure your results. You can also count on us to assemble and implement a strategic action plan in Content Marketing for your company, just get in touch.
If you need help understanding how to use this in your business, feel free to get in touch, without obligation. If you prefer to learn this in a practical and targeted course, count on our Digital Empowerment program.
We would love for you to tell us your impressions on this subject in the comments space below. And don't forget to share this post on your social networks. Keep learning always!
---
Did you like thit article? Use the comments below to talk about your experiences, difficulties and doubts on this matter.
If this content was somehow important to you, share it with your friends in your online groups and social media.
Sharing is caring! :-)