You liked the concept of Inbound Marketing and are already investing in the methodology of attracting visitors to your brand using relevant content as a way to connect with your audience. Perhaps you have already set up some Landing Pages to generate Leads and then relate better with these visitors in order to understand the business opportunities. Unfortunately, as in many other companies, you may be making the worst Inbound Marketing planning mistake when it comes to putting together your Content Marketing strategy, but you are about to understand why your efforts are not yet yielding the expected results.
What is the biggest mistake in Inbound Marketing planning?
At the beginning of the journey within Inbound Marketing it is natural to want to put into practice everything we are already learning and it is also natural to expect immediate results. What many people forget is that Inbound Marketing is a constant commitment in a medium / long term process to strengthen its brand as a reference in its market segment until it is recognized as an authority on the subject and appears in an organic way in the results for the main keywords that interest your potential customers.
To start right away, many people immediately start talking about what they already know in order to create a volume of content and increase their visibility and, consequently, the possibilities of being found by visitors.
Think for a moment about the subjects you are writing on your blog today. Perhaps they are those in which you already have more experience and are comfortable talking. But is your potential customer really facing the problems you are addressing?
Going straight to the point, the worst mistake in planning your Inbound Marketing strategy is … choosing the content!
It is very easy to deceive yourself by relying only on our own market experience when creating relevant content for the public. Our expertise is very important and can be interesting for some people, but is it that the problems you initially raised are really the pains that your future customers are going through now and looking for a solution on the internet right now?
How to fix it if you got it wrong: Research your audience
So that you can understand what is really relevant to your audience, don't just trust what you think, but use the tools available to know what your audience is really searching for and put yourself ahead so that your content is found before the your competitors.
Target Audience / Target – The target audience (or target) is the demographic group of priority interest of your business. There may be several audiences, and it is differentiated especially by the consumption profile of its products and services. For example, a department store can serve men and women, they are two different audiences with specific needs and interests.
Persona / Avatar – A fictional representation of each subgroup within its target audience. A persona / Avatar will help you to keep your publications focused with content that is really relevant for those who are interested in attracting you. The importance of defining an Avatar / Persona is to always speak the same targeted language and make sure your audience is understanding what you are trying to communicate.
Suggested tools to understand your audience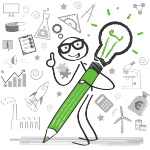 Below is a series of tools that we use daily because we believe they are fundamental to better understand the public and their consumption of content on the internet.
Persona Generator – Free – It is important to read an ebook and do some research before starting
Google Keyword Planner  – Free – Requires an active AdWords account
SEM Rush – Free/Premium – Offers limited information in the reports in the free survey
Árvore de Conteúdo – Free – You can design a content tree yourself using flowchart tools, mind map or simply, a simple organized listing
Ferramentas para medir seus resultados
It's not just us who are talking!
Watch the video below from GoMakers that talks about exactly this same problem
If you started your Inbound Marketing planning in an instinctive way and without any strategy, no problem, no need to throw away all the posts you have already made, just adjust the content so that they are useful information with useful solutions to the real problems of your customers. visitors. I hope that, from now on, your visitors can really find what they are looking for with relevant and exciting articles that will be related to your brand. Always remember to answer the questions that are actually being asked by your target audience.
Did you like this article? Comment below and share with your team and friends.
We are at your disposal to help you on your journey in Digital Marketing, get in touch!
---
Did you like thit article? Use the comments below to talk about your experiences, difficulties and doubts on this matter.
If this content was somehow important to you, share it with your friends in your online groups and social media.
Sharing is caring! :-)