Over the years we have learned a lot about digital empowerment with several important names in online marketing. I received a post by email and decided to share it immediately here. This video from the Viver de Blog site summarizes in a very precise way what we have been commenting for years: The Invisible Danger of Social Networks in Digital Marketing.
So, how about you stop working for social networks and use your time to make them work for you and your business? 😉
In this episode of his video series with practical tips, Henrique Carvalho (founder of the Viver de Blog site) talks about how to escape the pitfalls of social media and take advantage of all its potential to boost your business.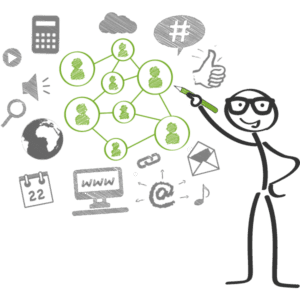 Some of the topics covered in this video:
How to use social networks?

How to take advantage of the potential of social networks?

How to escape the pitfalls of social networks?

What are the biggest dangers of social networks?

What are the best social networks?

What to do to use social networks intelligently?

What are the most accessed social networks?

What are the advantages and disadvantages of social networks?

How to use social networks in business?

How to work using social networks?

 

Watch the video on social media in digital marketing
In short
Social networks are platforms that you have no control over, so all the time and effort you put into advertising your business exclusively on a single social network can disappear at any time. Your content can really disappear, either by the summary exclusion of the page or profile of your business (?!?!), Or by the extinction of the service: remember Orkut, MSN?
In addition, everything you publish on a social network automatically becomes content and property of this social network, which will certainly use your content for your own interests, and especially to keep your users, including you, within the network as long as possible.
Views, likes and shares don't pay the bills
A very important point mentioned in the video is the illusion of "vanity metrics", that is, those cool numbers that only serve to inflate your ego but that in practice do not bring any real results to your business.
To ensure that you have full control and ownership of your content, our constant recommendation is:
1.Create your own website with blog, that is, have your own domain (an address ".com.br", ".com", ".net", etc.). We recommend WordPress because it is free and at the same time maintained by an active community and committed to usability, SEO and security.
2.Keep an active blog to attract visitors by answering the questions that matter to your target audience.
3.Develop an honest relationship with your visitors to understand their needs and also business opportunities. This you can do using your social networks in difital marketing, segmented email marketing lists and other digital tools to help you automate this task.
4.Strengthen its relevance and authority in its niche market and guarantee the satisfaction of its customers. Enchant!
This way, you will have full control over everything you put on your own website, in addition to attracting attention to your name and strengthening your own brand on the internet.

Attracting people who are already interested and ready to get to know your business is the essence of inbound marketing. And one of the best ways to achieve this in an organic and viral way is to share your blog posts on your own social networks. In addition, it is also interesting to answer questions in groups and forums in a relevant way using the links you have already published and can serve as an answer for many other people with the same question.
Practical tips for using social media in digital marketing for better results
See below for a list of tips that the author of the video gives, accompanied by our recommendations (assuming your site is using WordPress).
1.Republish old posts
Publishing each new post on your social networks is essential, you can use automated forms like Jetpack accompanied by settings targeted to each network in Yoast SEO, or SNAP (our favorite!) That already does it all on its own. From time to time, according to your goals, republish some posts that may have fallen by the wayside.
2. Inspirational phrases
For some obscure reason in the human mind, motivational phrases and inspirational quotes are widely shared on social media. Maybe it's because of how we express what we can't say using someone else's words. Or it may simply be easier to take advantage of the work already done by someone and pass on something that we agree with. Regardless of the reason, we can take advantage of this trend and take our brand along with the message. Becoming a new source of inspiration is a good incentive to get new followers for our pages and social profiles.
3.  Inspirational images
For the same reason as in the previous point, an image is able to amplify the viralization potential of an inspiring phrase. A good tip is to maintain a design pattern along with your visual identity. This makes it easier for your followers to identify your image among the dozens of other sources of information they receive.
4. Tell stories (storytelling)
If you still don't know how, learn to tell stories. Storytellers are able to hold the attention of their visitors for longer. You can start by learning the traditional ways of storytelling and then adapt your content to include fictional elements or even share real stories to reach and engage your audience, which is even better.
Tip: See this infographic about different forms of storytelling.
Dica: Veja este infográfico sobre diversas formas de storytelling.
5. Quick insights into your area of ​​expertise
Certainly the most recurring guidance I give in our courses is: "Answer the questions that your audience is asking". In other words, I want to say that your target audience seeks solutions on a daily basis and has certainly found many answers on the internet.
Your visitors and potential customers have questions, and no one better than you can talk about your niche market. By providing quick and practical tips for your visitors, you increase your relevance and authority as a reliable source of information and content. Now imagine if your content started to appear in the main organic places on Google?
For this to happen, it is necessary to define a clear strategy for attracting your audience. On our blog you will find many practical tips for doing this yourself, and you can also count on courses to learn in a more specific way, but if you need specific specific help or constant monitoring, do not hesitate to contact us.
6. Recommendations / Curatories / Translations / Partnerships
Not all content on your blog needs to be original, not even yours. You can make a series of publications using third-party content, see some examples:
Write a brief summary and recommend interesting posts from other sites.

Create lists of links to tips, publications or useful tools for your audience.

Translate relevant publications and bring quality content to your visitors.

Invite partners to be special or frequent columnists on your blog.
It is very important that all posts are consistent with your blog's proposal – note that the article you are reading now falls into exactly this category – and that your original texts are also pleasant and well written.
Tip: Learn more about how to write well
7. Ask and answer questions / Create surveys
One of the main advantages of using social networks in digital marketing is its power of engagement. It is essential to be present in the networks where your audience is active, as one of the most efficient ways to discover the doubts and needs of your visitors is to participate actively in groups and discussion forums.
When participating in targeted groups you will find people who want to know more about specific subjects, and who would certainly appreciate the help of an expert like you (see tip # 5). This way you can use your knowledge to help potential customers and even use links to your own posts as valid responses (check the rules of each group before sharing your links).
In addition to answering the questions that are already being asked, you can also design your own questions and frameworks to understand the real needs and priorities of your target audience. Use your creativity to entice your visitors and followers to participate in your polls. The use of mental triggers is highly recommended to motivate participation.
Tip: Learn more about mental triggers and how to use (without abusing) your marketing actions.
Bonus! Use Instagram the right way to advertise your business
Did you like this content on social networks?
I hope you enjoyed this article. I suggest you visit the Viver de Blog site and follow his YouTube channel to continue learning with Henrique Carvalho, he is very good!
And if you learned something important today, don't forget to share it with your friends on your social networks 😉. And feel free to comment below on the points that you agree and disagree with, either from what you saw in the videos or from what we have talked about here on our blog.
---
Did you like thit article? Use the comments below to talk about your experiences, difficulties and doubts on this matter.
If this content was somehow important to you, share it with your friends in your online groups and social media.
Sharing is caring! :-)