Researching an answer about the difference between Profile and Facebook Page I found this official answer from the Facebook Team:
Each person has an account and login information to access this profile, with this account you have access to a personal timeline, messages and everything else you are used to. With a personal account you can manage a page

Personal accounts are required to manage a page.

Individual timeline:

– Timelines are individual and for non-commercial use.

– Timelines represent people and need to be with their real names

– You can follow timelines to follow public status updates from people you are interested in but are not your friends.

Facebook Pages:

– The pages look a bit like personal timelines, but they offer specific tools for you to connect with people and topics that are important to you, such as companies, celebrities, bands, organizations, etc.

– Pages are managed by administrators (with personal accounts). Pages are not separate Facebook accounts, nor do they have different login information.

– You can like a page to receive updates from it.

– Pages provide information for you to understand more about people who like it If you see any timeline representing something other than a person, please report it to Facebook.
Use a Profile for you and a Page for your business.
The main difference between Profile and Facebook Page is the function of each one. The role of the Profile is your personal relationship with your friends, while the role of the Page is to promote anything that is not personal, such as:
Local Business (Store, Restaurant, Hotel, Gym, etc.)
Public Place (City, Beach, Plaza, etc.)
Company, Organization, Institution, NGO,…
Schools, Colleges and other Educational Institutions Brand, Product, etc.
Artist, Band, Celebrity or Public Figure
Movies, Sports and Entertainment
Services Causes, Communities, etc.
Sites, Blogs, Online Services, etc.
See below the screen how to Create a Facebook Page.
Acesse > www.facebook.com/pages/create.php

About Facebook Groups
According to Facebook's documentation on Groups:
Facebook groups make it easy to connect with specific groups of people, such as family members, teammates or coworkers. Groups are private spaces where you can share updates, photos or documents, and send messages to other members of the group. You can also select one of the three privacy options for each group created.
Pages allow organizations, companies, celebrities and real brands to communicate widely with people who enjoy them. Pages can be created and managed only by official representatives.
Groups offer a closed space for small groups of people to communicate about common interests. Groups can be created by anyone.
Other differences include:
Pages
Privacy: the information and publications on the page are public and generally available to anyone on Facebook.
Target audience: Anyone can like a Page to connect to it and receive updates from the News Feed. There is no limit to how many people can enjoy a page.
Communication: People who help manage a Page can share the publications of that Page. Page publications can appear in the News Feed of those who enjoy the Page. Page owners can also create custom apps for it and check Page Information to track its evolution and activity.
Grupos
Privacy: In addition to the public setting, other privacy settings are available for groups. In secret or closed groups, publications are only visible to group members.
Target audience: it is possible to change the group's privacy to require that new members be approved or added by administrators. When a group reaches a certain limit, some resources are limited. The most useful groups tend to be the ones created with small groups of people you know.
Communication: In groups, members receive notifications by default when a member posts something in the group. Group members can participate in chats, upload photos to shared albums, collaborate on group documents, and invite members who are friends to group events.
Acesse > www.facebook.com/groups/
Main differences between Profile, Page and Group on Facebook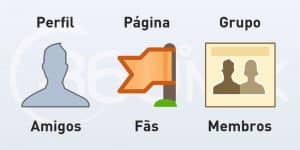 Basically:
People have friends.
Pages have fans.
Groups have Members..
Each person manages his own Profile, and from his profile you can create and manage Pages and Groups. Each Page or Group can have several administrators with specific roles: Administrator, Member, Manager, Information Analyst, etc. Each administrator manages their pages and groups directly from their respective Profile.
Each thing in its place
Check out in this table what you can do in each of them:
| | | | |
| --- | --- | --- | --- |
| Características | Perfil | Página | Grupo |
| Custom URL | ✅ | ✅ | ✅ |
| Discussion Forum | ✅ | ✅ | ✅ |
| Additional Applications | ✅ | ✅ | ⛔ |
| Statistics | ⛔ | ✅ | ✅ |
| Post videos, photos and images | ✅ | ✅ | ✅ |
| Create and Manage Events | ✅ | ✅ | ✅ |
| Join Groups | ✅ | ✅ | ⛔ |
| Promote Publications and Advertisements | ⛔ | ✅ | ⛔ |
| Landing Pages | ⛔ | ✅ | ⛔ |
| Define Multiple Administrators | ⛔ | ✅ | ✅ |
Fonte: marketingtecnologico.com
Migrating from profile to page
If your company has already created a Profile instead of a Page, the migration process is very simple, just follow the tutorial to migrate from Profile to Page. But be careful, as all previous content will be lost, so it is best to backup everything before proceeding.
Migrar Perfil para Página > www.facebook.com/pages/create/migrate
If you have a Profile and a Page, both for your business, first migrate from Profile to Page and then ask to combine the two into one. The page with the most fans will be kept, and the other will move all fans to the biggest one and then it will cease to exist. In this process all content on the smaller page will be lost, so make a backup of all your previously uploaded content before proceeding.
Combine two pages > www.facebook.com/pages/merge/
If you have any difficulties when managing your Pages, Groups and Digital Marketing campaigns on Facebook, get in touch.
---
Did you like thit article? Use the comments below to talk about your experiences, difficulties and doubts on this matter.
If this content was somehow important to you, share it with your friends in your online groups and social media.
Sharing is caring! :-)