This article was originally written in February 2016 and a lot has changed since then, some information may have been updated. With that in mind, it remains here as a historical and informative record. Good reading!
When someone happily tells me about the life that created a website on Wix – and how good Wix is, and it's easy to use, and it's very quick to put a website on the air without any technical knowledge, and so on – I'm honestly driven saying: "Really, the Wix panel is beautiful, easy and intuitive, the design of the themes is fantastic and above all it is free. But do you know that it reminds me of that Brazilian film from the 70s? Cute, but ordinary.", because that's exactly how I feel about him.
Wix is ​​good, in the advertising they do, in the panel that is really easy to use and also in the beautiful design templates that they offer, although many are not responsive. Unfortunately it is an obsolete system and tries to make up for it with the beauty of its themes and the ease of use of the panel. It is the best place for @sobrinhoweb to develop a website without much knowledge.
Wix could even be the best website system out there, were it not for the wrong technical and strategic decision they made years ago. As long as this strategy is not modified, Wix will continue to be very bad for the positioning of your site on Google and other search engines.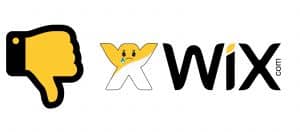 Why is WIX good for website creation but bad for SEO and Google positioning?
A little bit of history (but not much)
Originally, Wix was made to be an administrative panel of dynamic content for sites developed in Flash (rest in peace). At that time, Flash sites were very advanced in terms of design and had animations impossible to achieve otherwise. The problem is that Flash ran on a browser plugin and needed an external application (Adobe Flash, or similar) to create and publish the site in a closed .SWF file. In this way, all content on the site would normally be "stuck" within the .SWF files and only the original developer could make changes to the site, and needed to republish a new .SWF file for these changes to appear on the internet.
After some time, Flash started to support dynamic loading of content, texts, images and XML and ActionScript files. With this new feature, it was easier to maintain the sites because it was enough to update the .TXT or .XML file for Flash to automatically load the new data, without the need to call the developer of the Flash file every time it needed an update.
Another problem with Flash was the absence of Deep Linking, that is, there was no way to load specific pages of the site, you needed to enter a main page (ex: www.dominio.com.br) to be able to navigate to where you wanted, without being able share the direct link to a specific section of the site. In order to get around this problem, some libraries appeared, such as SWFAddress, which allowed to use the web's native anchor structure to capture the internal link and direct the visitor to a specific area within the file. SWF.
And this is where the problem lives…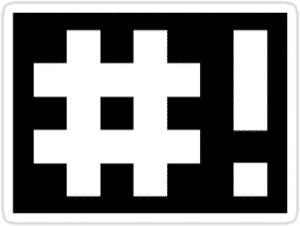 The anchor structure, native to the Web, uses the # symbol (hash, hash, sharp or tic-tac-toe) to separate areas or topics within the same page. This feature is extremely useful on long pages that need a navigation index, as they load all the content at once, and use #ancoras to target the topics that already exist on the page, as does Wikipedia.
Perhaps for a tribute to Linux / Unix the developers decided to use Shebang (#!) By adding the exclamation point next to the "tic-tac-toe" in the URLs.

 
Flash needed exactly this function to allow the website to not be reloaded each time there was a link to an internal area of ​​the SWF file.
To better understand the issue, see these examples:
www.dominio.com.br/
www.dominio.com.br/sobre/
www.dominio.com.br/contato/
All of the addresses above reload the page, so Flash loses one of its main functions. Now look at these other examples:
www.dominio.com.br/
www.dominio.com.br/#
www.dominio.com.br/#sobre
www.dominio.com.br/#!contato
In a conventional HTML structure, all of these addresses above point to exactly the same page, so the internal links (#, #sobre, #! Contact, etc.) do not reload the page, but they can be used to create different links, and this allows the Flash recognizes and directs a URL to a specific area of ​​the website. For example:
www.dominio.com.br

Opens the website on the main page loading the SWF file normally

www.dominio.com.br/#sobre

Remains in the same SWF file and directs you to another area of the site

E se a pessoa recebe o link www.dominio.com.br/#contato

Opens the same SWF file as always, but already directs you to a specific area of the site
The advantage is twofold, as the site is not reloaded – since a new URL has not been requested – and allows you to share independent links to specific areas within a Flash site.
There, problem solved! #But…No
Wix used this feature to add a content management system, allowing Flash sites to be updated dynamically through an administrative panel. It was perfect! Only … time passed, the mobile devices appeared and Flash died.
This had been decreed for years, for anyone who wanted to listen. During the process, all companies adjusted and adapted their structures to improve mainly two issues: SEO and Responsiveness. However, Wix decided (out of laziness or lack of vision) to maintain the same link structure it used, both for Flash sites and for new HTML sites. Tsc, tsc, tsc … 🙁
It is important to note that this structure of internal links (#!) Now also allows Wix to be able to load only parts of the HTML code (the internal pages), on demand, without reloading the page – using javascript through a technique called AJAX – and this feature makes the experience faster and more interesting for the visitor. Point to Wix.
Using AJAX to load additional pieces of code impairs the placement of internal pages, as Google generally only reads the first page and expects to find each additional page with its own link. Google does not use AJAX to index the pages and when it indexes a Wix page it finds links #! That #! That but doesn't find the anchors inside the page and much less the content – it hasn't been loaded yet, remember? – In this way, the #! It-and-aqulio pages will only be indexed if they are manually entered, through a Sitemap or direct links from other sites, so that Google comes to these links directly and Wix uploads new content the first time .

Is Wix good for SEO?
See some links below where we realize that Wix does not have native SEO support and indexing of sites on the Wix platform takes much longer to position than the average, and still loses positioning when someone changes to Wix.
Fonts: Wix | Google | Publiki | American Genius
Google vs. Wix – Cheap is expensive
Watch these videos by Fábio Pessoa, who reported Google's problem with the deindexation of sites hosted on Wix, which occurred in late 2015.
Assista a estes vídeo do Fábio Pessoa, que reportou o problema do Google com a desindexação dos sites hospedados no Wix, ocorrido no final de 2015.
Some time later there was another announcement, but the question remains: why only Wix sites?
Google doesn't forgive: it cheated, it danced.
The Google search engine has a great facility of perceiving when someone is trying to deceive the user, showing links to things that do not exist or loading secondary content after the initial loading of the page. I believe that this is exactly why Wix lost its position, as it is one of the only platforms that goes against Web design standards. Despite Google's efforts to support these absurd practices such as AJAX tracking.
Anchors (#) are originally a resource for indexing content already loaded on the page, and not for loading new content, on demand. Thus, as long as Wix continues to insist on this practice (read gambiarra), the positioning of its sites will certainly be affected, and it will probably never reach the first organic places in the keywords that really matter.
Is Wix responsive?
Another recurring problem is that Wix sites are not responsive, that is, they do not adapt automatically to the dimensions of the screen, and therefore do not appear properly on mobile devices: smartphones and tablets. And this is nowadays essential for a good positioning on Google.
The feature exists, but it must be enabled, and because of the technology used to create the sites (in layers) the satisfactory result of the responsive effect can only be achieved after exhaustive tests. Responses from Wix support are superficial and requests to include this feature seem to be completely ignored.
It would be so much easier not to want to reinvent the wheel and use existing industry-standard technologies.
Wix is ​​good. It was great, but it still uses an obsolete structure
With the emergence of several technologies such as DHTML, HTML5, CSS3, etc. and libraries like Bootstrap and jQuery doing just about everything Flash did, it's past time to move on to other horizons. Unfortunately, the strategic decision to keep the links as internal anchors of the page and to use AJAX forever has made Wix lose the trolley of history.
In other words, Wix sites are not really responsive, not adapting properly to mobile devices. In addition, Deep Linking exists for a reason, and the #ancoras inside the page exist for another, the problem is that Wix mixed everything up and hasn't done his homework yet. Putting it all together, Google looks ugly doesn't like it at all.
Take two points from Wix.
How do I make my site rank better on Google?
Step 1: Exit Wix as soon as possible!
The fact that Google penalized Wix is ​​good for us to realize that something is wrong! But before you cancel your Wix account, see the next steps. Unfortunately there is no automatic way to migrate from Wix to other platforms, as their goal is exactly that you stay there forever. But do not worry, the initial effort may be greater, but the benefit in the medium / long term is "Mastercard type": it is priceless!
Step 2: Hire independent hosting and install a CMS with advanced SEO options.
If you chose Wix, it is because you want to be in control of your content and also of the design of your website, but this is perfectly possible using a paid hosting to ensure that you have total control of everything that happens inside and also freedom to install the tools you want to meet your needs, not just the ones that Wix offers.
Currently there are several free content management tools (CMS) that allow full control of the hosting and installed tools, the most popular ones being WordPress, Joomla and, Drupal, but there are many others. I have already tried several of them and have been working with WordPress for the past 10 years, and I see the growth of the developer community and support in Portuguese, which is a big advantage when choosing a CMS platform.
Watch this free online WordPRess course to understand how WordPress works and create your website without much hassle using a semantic platform with native SEO and a huge network of developers and support in Portuguese.
Step 3: Learn to identify your target audience and produce relevant content for them.
At this point I believe that you have already realized how important it is for your content to be found by Google, and so far the technical structure of Wix has not served this purpose properly. If you intend to create relevant content to attract new visitors and opportunities for your business, consider learning more about Content Marketing and Inbound Marketing.
The more questions you answer, the more chances you will have to appear and be shared on social media. This makes all the difference when competing for the positioning of the first organic place on Google (just below the sponsored links). Using Wix your chances of being found on Google searches are drastically reduced.
---
I hope you enjoyed learning about where Wix is ​​good, and where it is not. Continue reading our blog and comment on your experiences. If you still think Wix is ​​good, comment too.
Share with your friends who are considering or still use Wix and consider migrating to WordPress. If you have any questions, difficulties or need help with any of the points in this article please contact us.
---
Did you like thit article? Use the comments below to talk about your experiences, difficulties and doubts on this matter.
If this content was somehow important to you, share it with your friends in your online groups and social media.
Sharing is caring! :-)